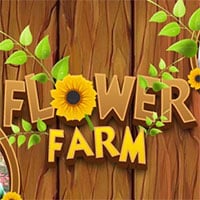 Flower Farm. We all like you to enjoy beautiful flowers and flower bulbs in our garden or home, office or balcony. It simply makes our place happier and prettier. Watching flowers grow could be big business. If you love being in the garden and cultivating a variety of beautiful blossoms, becoming a flower farmer might be a great way to supplement your income.
Marion and Ida are two best friends who started a joint business a few years ago. They are big flowers lovers, so they decided to start a business with growing flowers. Tulips and daffodils in the spring, cheerful dahlias in the summer and fall. They are proud of their flower farm and want to share their colorful moments with others.
Their Flower Farm is quite successful now and they need new employees to source, breed, trial, and sell outstanding selected varieties of flowers. Today is the day the new employees are arriving art Marion and Ida's farm. They will have to find all the necessary flowers and gardening objects and prove themselves on the first working day. Every helping hand is welcomed.
Flower Farm is a free online hidden object game on Hidden4Fun.