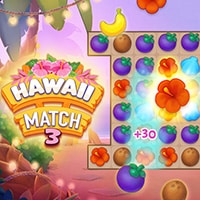 This beautiful Match 3 Game takes you on a journey through the beautiful nature of Hawaii. Combine and collect exotic fruits and flowers in over 2000+ Exciting Levels! Complete the Daily Missions and Daily Challenges to earn additional coins and other gifts! Hawaii Match 3 Game will take you on a journey around a level map inspired by the beautiful islands of Hawaii. Explore this volcanic archipelago and collect the fruit, flowers, sea shells, and other items you need. To collect items, you can make two adjacent icons swap places. Tap an item and drag it to a slot directly bordering it. Each move must result in a valid match of three or more identical items. If the move does not result in a match, the icons will simply jump back to their original spot.
How to play Hawaii Match 3 Game Online:
At the start of each level you'll see which items you need to collect. The level objectives may also include fun tasks like clearing away rocks and stones, or going on a treasure hunt. Your progress in Hawaii Match 3 Game is tracked in the panel displayed at the top of the screen, just above the Match 3 board. To return to the level map, tap the box with the gear in it and select the Home icon. Please note that you will lose one heart if you do this mid-level. Your supply of hearts will be replenished each hour, however. You can play Hawaii Match Game on all devices. So enjoy and have fun.
Also make sure to check Hawaii Match 4 Game, you may enjoy playing it.