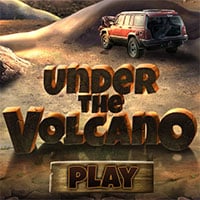 Under the Volcano. Daniel lives in a place that is a real tourist attraction, a wonderful place that offers numerous beauties. However, near the city where Daniel lives, there is a natural catastrophe. Something that has shaken all the people that live there, including the tourists. The phenomena that attracted many tourists to this place, became a serious threat for them. Namely, the volcano near the city, that was passive for many, many years, became active all of a sudden! There is also a huge eruption coming from the volcano, and many tourists are stuck in the mountains, not knowing what to do.
Because Daniel lives in the city near the big volcano, he knows the territory rather good. That's why he, together with his friends Alice and Joy, are on a mission to do everything they can to save the tourists. They have to find all the objects that are necessary for saving the tourists. And do their best to avoid happening of a bigger catastrophe. Since this is a very serious and complicated situation, we will ask for some help from you too. It would be very nice from you if you help Daniel and his friends save the tourists and take them to some place where the is no threat of certain danger. We need to act fast but calm at the same time because this sudden situation has confused everyone so far. Enjoy and have fun in playing Under the Volcano Game.
Also make sure to check Angry Mountain Game and Island on Fire Game. You may enjoy playing them.