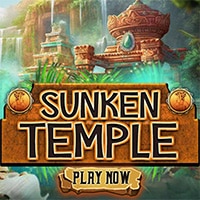 Sunken Temple Game: Nathan is an experienced adventurer and archaeologist. He has studied many landmarks so far and found countless artifacts. His passion for studying the past is so great that he does this research without а problem. For some people, it may seem strange to constantly go from one place to another, looking for something that may not exist, but such cases do not demotivate Nathan. And if he doesn't find anything, it proves that some of the stories about those landmarks were just stories. It continues to explore something new.
Today in Sunken Temple Game: Nathan finds himself at the site of a sunken temple, a majestic place adorned with waterfalls, lush trees, and captivating wildlife. This looks like a really interesting mission. It is a really big and important discovery. But the way to get there is incredibly interesting. His mission is clear: conduct research and unravel the mysteries surrounding this ancient wonder, seeking to unveil its origins and the enigmatic civilization behind its creation. You can play Sunken Temple Game on all devices. So enjoy and have fun.
Also make sure to check The Eternal Temple Game and Stone Temple Treasure Game. You may enjoy playing them.