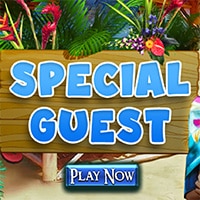 Special Guest Game: People in the hospitality industry always try to treat people equally, providing everyone with good care and excellent conditions. That is the condition for having a good restaurant, a good coffee place, or a good hotel. And, when it comes to whole resorts, hospitality and its organization take an even bigger part. Because it combines several branches of the hospitality industry. In Special Guest Game: Thomas and Cathy are owners of a beachside resort. They have a lot of work because numerous people visit their place every day.
The resort is known for its excellent service, and that's why it's booked all the time. And the good voice is heard far away. Today, Thomas and Cathy got a big reservation from a very famous celebrity. One client from this type means many clients from this type, of course, if the resort shows in its best light. Thomas and Cathy need to take care of the beach and clean it from unnecessary items before the special guest arrives. Let's help our characters clean everything before the guests come. You can play Special Guest game on all devices. So enjoy and have fun.
Also make sure to check Guest House Renovation Game, you may enjoy playing it.