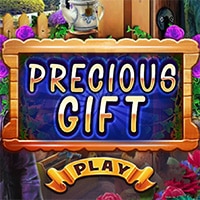 Precious Gift Game: Having a weekend house, somewhere in nature – in the mountains, in the woods, or near to a lake, is a very good thing. Whenever you wish, you could spend some time there, far away from your everyday responsibilities and the city noise. Mark, together with his daughters Betty and Sandra, come to Mark's mountain house. The two girls love this house. They love nature, the wonderful mountains, but also the house is a very nice place to stay. But today, something will be changed and it will surprise the girls very much. Namely, Mark has decided to give the house to his daughters. From now on, this house will be theirs.
This is a very precious gift for Betty and Sandra. The two daughters are very happy and they hardly wait to take a walk around the house and to start exploring the house as well. From now on, this place will be visited by them much more often. Let's see what is this house hiding and enjoy its beauties together with Mark and his lovely daughters. We are sure that we will all enjoy our stay in the mountains and have a lot of beautiful moments there. You can play Precious Gift game on all devices. So enjoy and have fun.
Also make sure to check Royal Gifts Game, you may enjoy playing it.