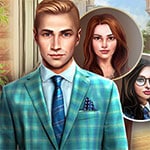 Precious Gemstones Game: Summer houses are definitely great place to stay during the hot summer days. Usually located somewhere in nature, those houses offer peace and relaxation for everyone that comes there. Sometimes summer houses are surrounded by orchard which makes them even more beautiful. Long night talks, summer parties, or simple stays in summer house is something that everyone dreams about as an escape for the hot asphalt.
And it is very sad when the stay in the summer house turns into unpleasant experience. In Precious Gemstones Game: John and his sisters Margaret and Lisa have a summer house and last night they have organized a wonderful party. There were a lot of people on the party and they all spent a great time together. But, the next morning they received a call from their friend Ashley that wasn't very pleasant. Namely, Ashley complained that she has lost the precious gemstones from her necklace while she was on the party. Is it about a imprudent thief or she has simply lost her gemstones somewhere? We are about to find out the truth very soon because John, together with his sisters, start the search right away. Enjoy and have fun in playing Precious Gemstones Game.
Also make sure to check out Precious Porcelain Game and Precious Watch Game. You may enjoy playing them.