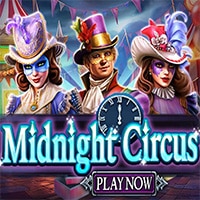 Midnight Circus Game: Working in the circus is unimaginable for some people. But for some, it is a reality and everyday life. Long-term exhausting training to ensure a flawless performance, but also safety during the performance. Then, readiness to not have a single home, given that you travel non-stop. Being ready to meet numerous characters every day, being in the mood to perform among children every day… And countless other important things you must be ready for, at all times. But William, Lisa, and Patricia, the three employees of one of the biggest circuses, never dreamed they would face something like this.
They work in a traveling circus, and each their journey is a story itself. A week ago in Midnight Circus Game, they arrived in the south of the country. But since the moment they got there, they have been facing some paranormal things every night. Their circus seems to have become haunted by ghosts and similar creatures – something that is completely unexpected for them. Let's find out what it's all about. You can play Midnight Circus Game on all devices. So enjoy and have fun.
Also make sure to check Midnight Phantom Game, you may enjoy playing it.