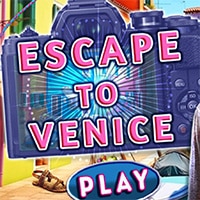 Escape To Venice Game: Skylar Willow is a world-traveling blogger and author. Probably, this is the best profession these days. When it comes to the ideal workplace, humanity is led by the idea of having an office that can be easily moved from one place to another and traveling bloggers have it literary. They don't need to have a regular office. All they need is their laptop and the ticket to their next destination. They are blogging from different places in the world, staying at different accommodations, and getting paid for that. Well, what can be better than that?
In Escape To Venice Game: Willow, the world-traveling blogger, and author, is always on the hunt for new material and inspiration for her work. She has visited so many places during her career, sometimes to find material for her blog, and sometimes to get inspiration for her books. This time Skylar Willow is in Venice, looking for inspiration for her next turn-of-the-century drama novel. Venice is a must-see destination for anyone looking to escape and soak in some culture and history. You can play Escape To Venice game on all devices. So enjoy and have fun.
Also make sure to check Fugitive Cabbie Game, you may enjoy playing it.