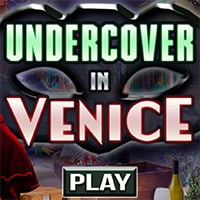 Undercover in Venice Game: Working undercover is one of the most interesting aspects of detective movies, right? Creating a new, secret identity, then acting like somebody else…changing the whole style, pretending to be something different, something that doesn't match with the true profession… Sounds exciting! At least for us, who are not true detectives. But Karen and Donna are real detectives that work on the case of stolen paintings from the London museum. They have been investigating those paintings for a while. And the investigation took them to Venice in Undercover in Venice Game.
In Venice, the Venice masquerade ball is happening right now. Which means that there are numerous masked people, walking through Venice. Karen and Donna use this chance, so they could investigate undercover. They are masked the same as the tourists and the local citizens, so no one will doubt in them, that they run a serious investigation. Let's check out together how will the detectives Karen and Donna deal with this specific situation. You can play Undercover in Venice game on all devices. So enjoy and have fun.
Also make sure to check Venice Treasure Game and City of Masks Game. You may enjoy playing them.