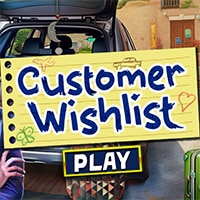 Customer Wishlist Game: Many of the shops are turning their work online. Maybe it was the epidemic that made this change into people's minds. So now many of us feel fine shopping online. Some businesses decide to sell only online to save resources while others keep the both options and complement their work that way. Eric is an owner of a boutique. He just started selling his products online and after a while, he got a really big number of orders. Now, it is time for him to deliver the goods to his costumers. But before he starts that, he needs to organize his work.
In Customer Wishlist Game: Eric, together with his colleague Angela, needs to find all the things that have been ordered by the costumers and after that, to deliver the products to their homes. Maybe this is a routine but still, all those things need to be done carefully, to avoid making mistakes and missing something. The mistakes can be fixed but it is not that easy with costumers' trust. So it is better to avoid those mistakes. Let's take a look at Eric's work and find out something more about online shopping. And all the things related to this process. You can play Customer Wishlist game on all devices. So enjoy and have fun.
Also make sure to check Special Offer Game, you may enjoy playing it.