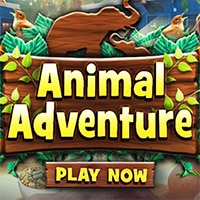 Animal Adventure Game: Pamela and Patrick work at the zoo. Their work is really interesting because they take care of the animals every day. On the other hand, working with living beings can be difficult. Whether it's people or animals because various unpredictable things happen all the time. It can be extra unpredictable when it comes to animals, but that's the challenge in this job, right? These days, new residents arrive at the zoo where Pamela and Patrick work. For each new animal in the zoo, appropriate conditions and suitable habitats, adapted to their needs and similar to their natural habitat, should be provided.
Only in such an environment, animals can spend their days peacefully and happily. And this time in Animal Adventure Game: Pamela and Patrick will have to prepare the field, and the other employees of this zoo will help them with that. Let's see how the new homes are being prepared for the new residents. And, of course, help Pamela and Patrick in their work. You can play the Animal Adventure game on all devices. So enjoy and have fun.
Also make sure to check Safari Explorers Game and Wilderness Getaway Game. You may enjoy playing them.