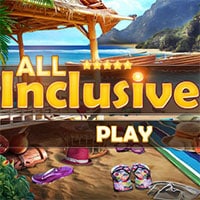 All Inclusive Game: All people have different requirements when it comes about going on a holiday. Some of them like to take things in their hands and arrange every detail of the holiday by their own. They choose the location and like to be completely independent. While other people like someone else to take care of everything. They choose the location and decide not to leave it for 10 days, enjoying all inclusive offers. Those offers are actually very famous because they leave people to rest as much as they can while professionals take care of every aspect of their holiday.
Gloria and Kelvin work in one of the most luxurious resorts in the Hawaii. The location is very attractive and it could be said that it is one of the best places in the world. Another interesting thing is that this resort is actually very famous for its all inclusive offer. Taking this offer, the tourists that have paid for it, could take all services offered by the resort which means cruises, restaurants, massages, sun beds on the beach… That would mean that people could enjoy all of this, having a perfectly arranged holiday.
On the other hand, this means that the holiday season is very busy for the people that work there. So many people, so many things that need to be done! That's why Gloria and Kelvin could use some help to serve all the guests. You will be in a role of their assistant in this game. So take care everything to be just fine, to the resort could keep its famous reputation. You can play All Inclusive game on all devices. So enjoy and have fun.
Also make sure to check Honolulu Sunset Game, you may enjoy playing it.