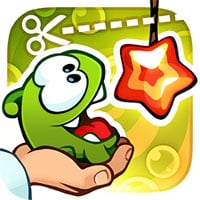 Cut The Rope Experiments is a physics puzzle game where your goal is to feed the little green critter named Om Nom with every candy in the level. The game features the same game play as the other titles of the series but has more levels, more challenges, and more fun. Cut the rope to release the candies down to the creature's mouth. Try to complete all levels and collect all starts to get the perfect score. Will you be able to beat all the levels? You can play this game on all devices. So enjoy and have fun.
The little green monster Om Nom is back and hungrier than ever! Team up with the Professor, a mad (but not bad!) scientist determined to study Om Nom's candy-loving behavior through a series of experiments, 200 levels and more to come! Help the little critter eat more food in this rope cutting frenzy – Cut the Rope: Experiments! Prepare to cut some ropes and keep your timing perfect to make the little friend happy. Use suction cups and other funny devices to collect shiny gold stars, uncover hidden prizes and unlock new levels! Enjoy and have fun in playing this free online game.
Also make sure to check Cut The Rope Time Travel Game and Cut the Rope 2 Game. You may enjoy playing them.