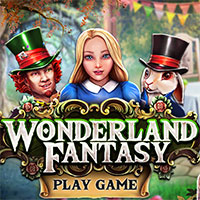 Wonderland Fantasy: Let's recall the story about the girl lost in Wonderland. It is about a story about the girl named Alice and her crazy adventure through Wonderland. In this place she meets with the Queen of Hearts, Mad Hatter, and the frantically late White Rabbit, experiencing numerous strange happenings. She drinks a tea and she becomes extremely tall, then another tea and she is tiny as an ant, no one could predict what is next in this crazy land. This interesting story that treats the theme of growing up on a very interesting and creative way has numerous adaptations through the years in books, films, theater plays, cartoons. And even though the first book Alice's Adventures in Wonderland is an 1865 fantasy novel, it is still very famous and wide known between children and adults.
In this interesting game Alice is in Wonderland and she is looking for a way out. She likes to go home but it seems that it is not that easy. That's why here are the White Rabbit and the Mad Hatter who help her in her mission. There is one more thing that needs need to be done before she leaves the place – to find the real objects that will help her go home. Let's enjoy this adventurous game together and see what it's like to be in Alice's shoes. And be prepared on everything because who knows what could happen in wonderland.
Also make sure to check Fantasy Journey Game and Gates of Fantasy Game. You may enjoy playing them.