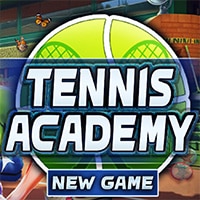 Tennis Academy Game: Teresa, Madison, and Cheryl are professional tennis coaches. Their great experience and successes in the field of tennis made them get a job at one of the most prestigious tennis academies in the country. This means that they pass on their knowledge to new generations of coaches, and they do it very well. Every year, new children come to them, eager to learn more about this sport, and some to start training professionally. They often become world-famous tennis players, but everything goes step by step.
It is the turn of a new generation of tennis players who must start training again. And of course, our top coaches are in charge of that. Before starting the semester and classes, Teresa, Madison, and Cheryl need to make sure they have the proper gear and equipment needed to train the new tennis players. Let's see how tennis lessons work and learn a little more about the work of professional coaches in Tennis Academy Game. Maybe these insights will make us fall in love with tennis. And maybe even make us want to train as well. You can play Tennis Academy Game on all devices. So enjoy and have fun.
Also make sure to check Detective Academy Game, you may enjoy playing it.