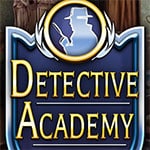 Detective Academy Game: Collaboration within a group can help solve difficult problems. By working together, we can find the solutions that work best. Are you ready to join a team of young detectives at the police academy to solve a very difficult imaginary case? Police academies use teamwork in their training programs to ensure that graduates are able to work together in real-world scenarios. Donald and Nancy are detectives who teach at the detective academy.
Today they will give their students the final and the most difficult test. The test is a team building experience based around problem solving and communication. Working in a team under the watchful eye of detectives Donald and Nancy who prepared a great fictitious case for their students today. So the students must interrogate suspects and examine the forensics in a bid to solve this sinister crime. They will have to work as a team if they want to pass the final exam. They will have to piece together the case by gathering evidence, interviewing suspects, looking at forensic reports… You can play this game on all devices. So enjoy and have fun in playing Detective Academy Game.
Also make sure to check out Detective in a Fur Coat Game, you may enjoy playing it.