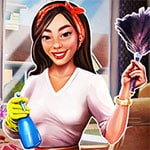 Smart Cleaning Game: Growing up means facing the life and all the challenges that it brings us. There comes time when you should move forward and leave your parents support behind. You don't forget them, but it is actually the time when you should do your own steps, simply grow up. It is the best thing when you do it while you are younger, not wait til you become 30 or more. The sooner the better, that's when you get the perfect picture of how serious life is.
One of the first steps you need to make is to find your own place to live. Off course, not everyone can buy an apartment, unless your parents aren't too generous to get you one. Paying a rent might be a good occasion and a real thing to do. If you belong to the group where you can buy your own flat as our main character today, than, you will have very few problems concerning entering a new life.
Nancy decides that she has to start living all alone. That's why she makes the first step – she buys an apartment, but the flat needs general cleaning. That's why Nancy calls her grandmother Margaret, but her friends too. She needs their help with the cleaning of the apartment. Enjoy and have fun in playing Smart Cleaning Game.