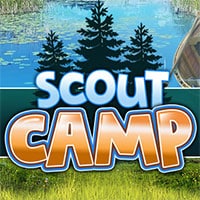 Scout Camp. For numerous kids all around the world, scouting has been one of the greatest experiences in their lives. Far from school and civilization, far from their parents but together with so many kids, it's something that most kids dream about. Those kids bond with each other but at the same time they learn to a discipline and team work. During their stay in those tents, they get a lot of tasks that need to be done, in order to learn a lot of stuff, how to survive in the nature. After many years, when those kids become older, they are really happy when they meet again because they have so many interesting memories together while some of them stay friends forever.
Kathy and Steve are sister and brother that are scouts for several years. The both of them arrive at the famous scout camp where they are determinate to be leaders of a certain group of children, that have also arrived in this camp. Since, Kathy and Steve are more experienced, they will have to organize the other kids, to do the given tasks. They have to prepare the terrain where they will stay, the place where they will set their tents which will be their home for 10 days, during the scout camp.
Let's help Kathy and Steve do their job as good as possible. This way we will have a nice chance to see what is going on in one scout camp and learn many useful things about being in nature for a longer period of time.