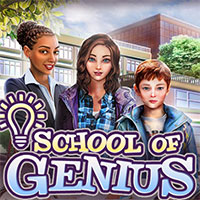 School of Genius Game: Each and every human is special, but have you ever wondered if you have the natural potential to be ahead of the curve, or have above average intelligence? Whether it's increased vocabulary or a propensity for math facts, being smarter than average can sometimes be a challenge.
Gifted kids need to be challenged in school in order to thrive. Today we'll explore in a school for gifted children. Which helps children to realize their full potential with unique features virtually unheard of in ordinary schools. Teacher Wilma has been teaching gifted children for some time now. But, little Mark and high school student Sandra enrolled in this school for children with above average intelligence only at the beginning of the year.
With the guidance of their teacher Wilma. They are preparing their annual project to present publicly in front of all the students and their parents. But the rest of the students working on their projects have moved the items they need for their project. They need help to find all the hidden items. Enjoy and have fun in playing School of Genius Game.