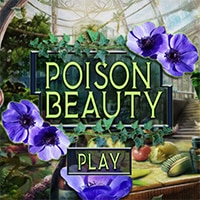 Poison Beauty Game: We have heard numerous times that we shouldn't always believe in beauty. Naturally, people related beauty with good associations, positive associations. But the truth is that sometimes the look could fool us and that is something that we have to accept. This truth goes for the flowers too. The list of poison but amazingly beauty flowers is not small at all. And we are talking about flowers that are so beautiful, that take our breath away. But sometimes those flowers take someone's life as well… Lauren for example is a girl that has lost a very close friend because of the poisonous flower known as poison beauty.
Lauren likes to find the origin of this flower, the place where this flower has been groomed and destroy it forever. Lauren's friend was not the only person that smelled this flower. Only few people have overcome not to smell this deadly poison, and the death caused by this flower starts right away. Destroying this flower will mean saving numerous lives so let's help Lauren in her intention. You can play this game on all devices. So enjoy and have fun in playing Poison Beauty Game.
Also make sure to check out Six Rare Flowers Game, you may enjoy playing it.