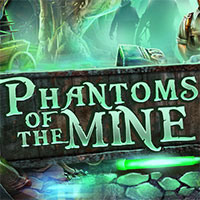 Phantoms of the Mine. Some things in life could be predicted but sometimes we have intention to do something while things turn out to be completely different. Sometimes it turns out to be good but sometimes the faith plays with us and unwanted things happen…
Terry works as a ranger in the national park. One time, in a routine check out of the national park, Terry has noticed that there is a hidden shaft, an entrance into a secret mine. Terry enters into the mine and becomes a witness of a rather unpleasant and scary situation. Namely, the mine is inhabited by phantoms and that's what scares Terry. He learns about a legend that says that many years ago there was a real mine in the national park and few mines have suddenly discovered diamonds. Without knowledge of the owner of the mine, the miners had entered into the mine at late hours with intention to take the mines, but at that moment there was a land slide and all the miners were buried alive in the mine.
You may also notice that this is a very terrible story, a scary situation, but what follows is even worse. Now the souls of the miners don't like to leave the place until they don't get the diamonds from that fatal night. Our task is to help those ghosts settle down so their souls could be calm again.