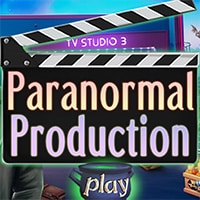 Paranormal Production Game: Working in film production is probably one of the most interesting jobs out there. We all love movie magic. But to be a part of it, to participate in the creation of that magic, must be something really special. Nancy and Daniel work in one of the most famous film productions. This production deals mostly with making horror movies and it is really interesting because these movies also include some additional aspects, like special make-up, striking effects, and so on, apart from the specific script.
In Paranormal Production Game: Nancy and Daniel are currently on the set of their latest horror movie, but things seem to be getting out of hand. On the set itself, paranormal things began to happen, but real not, staged. Everyone on the set is surprised, they can't understand who could be behind all this. Let's see what happens on the set. And try to find a solution to the whole situation together with Nancy and Daniel. There could be a chance that someone is trying to set them up and disrupt their work, but maybe paranormal things really happen there. You can play Paranormal Production game on all devices. So enjoy and have fun.
Also make sure to check Paranormal Police Game, you may enjoy playing it.