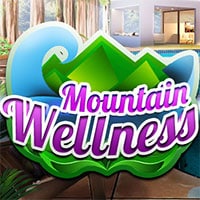 Mountain Wellness Game: Ok, it is like that every time we start a new job. Maybe we know our profession really well, we are real professionals in it. But on the other hand, we are not able to accustom to the new surroundings right away. At the beginning there are so many things that distract our attention. Or simply some things that need to be finished before we start with our actual work. Sometimes those things could be strenuous and annoying but they have to be done before we could start enjoying our job.
Pamela has just started to work as a massager in one elite mountain spa center in Mountain Wellness Game. This is her first day at work and before she starts working with her actual clients, she has to arrange the room for massage. She will have to find the right objects that will help her do her job later. Assuming that this is a rather big spa center, the needed objects are hidden very well all around this place. That means that it would be rather complicated for Pamela to find out all those objects without any help because she is new here and she doesn't know the place that well.
Let's help Pamela finish her job as soon as possible. So she could concentrate more on her actual job – the massage. Start exploring the place with all of its details and we are sure that you will find all the hidden objects very soon. Also, we are sure that you will enjoy the beauties of this luxury spa center, so let's start right away. You can play Mountain Wellness Game on all devices. So enjoy and have fun.