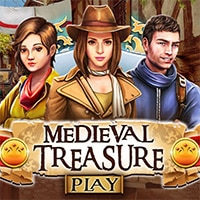 Medieval Treasure Game: There is a chance for a new adventure everywhere. Simply, you have to take that chance and dare to explore something new, sometimes even something that seems impossible… And since that something is that unbelievable, it is also very hard to predict what could come next and what to expect… Amanda, Brian, and Betty arrive at the medieval village, known as Windrip. This is a place that was inhabited many years ago, but our three characters are here, looking for something particular.
Namely, they believe that they will be able to find the treasure that was hidden in this village by the rich people who lived there. They can't be sure if there is really some treasure there. But they are really willing to try and see if there is something left from the people who lived there before. Let's help Amanda, Brian, and Betty search the medieval village and find out if there is some real treasure hiding. You will see how does medieval village looks like. And maybe, you will really be a witness to finding the treasure. You can play Medieval Treasure game on all devices. So enjoy and have fun.
Also make sure to check Circus Treasure Game, you may enjoy playing it.