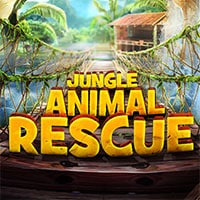 Jungle Animal Rescue Game: From one reason or another, many animals have turned to be endangered animals. The factors for that are many. Sometimes people and their actions are responsible for disappearing of those animals. They develop animal's habitats into place where they could work or live and they change the natural environment where they used to live. Then here are the climate changes that don't allow them to survive in different weather conditions. But sometimes the evolution of live makes some animals to disappear in a sense that only the stronger species survive. However, even thou this change may be natural; it is still unfortunate that some species will disappear forever.
Wanda is a member of the team of volunteer workers that is located in one of most dangerous jungles in the world. Wanda has a duty to take care of the endangered animals and keep them safe from the poachers. Today he is on her regular routine tour through the locations that are under her jurisdiction.
For some people this tour could be very scary because it is one of the most dangerous jungles in the world. But Wanda knows these animals really good. The animals also know her well so she could walk around freely, and pass by them without any trouble. Wanda has a task in front of her, to find the objects that she needs. But also to find the objects that are dangerous for the animals. That way she will maintain the safety of these animals because they are one of a kind from their particular specie. Let's take part in this unique adventure and help those poor animals survive. You can play Jungle Animal Rescue game on all devices. So enjoy and have fun.