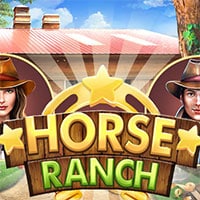 Horse Ranch. When you love some thing so much, you would do anything to achieve the goal. Especially if you are dealing with something that occupies your mind, ideas, wishes… then success simply must come. If you love animals and your time and attention is dedicated to them, then you would try to do your best, to improve the conditions for the animals, to attract more people to come visit your place. And people who work with animals usually are the calmest people. They don't talk too much, they are admiring nature and respect all the species.
And do you know who are the animals the toughest for the artists to draw? Those are the horses. Only the best painters can put these stylish creatures on a canvas. Our heroes of the day are a happy couple. Nancy and Daniel are owners of horse ranch.
They decided to open their ranch for visitors and for people who want horses and want to learn more about them. The season is about to begin, so Nancy and Daniel call for their friends to help them with the landscaping. The first round of visitors is already pointed and they are about to come the next week.
Horse Ranch is a free online hidden object game on Hidden4Fun.