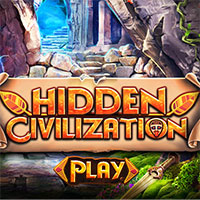 Hidden Civilization Game: Vivian has arrived at the place where many adventurers have disappeared before. It is about a very strange place and no one knows what has happen with those people, why it happened like that?! Vivian is willing to solve this mystery forever and she will do everything she can to manage that.
This girl has traveled a lot and searching a lot so at this moment she has found a secret entrance in the waterfall. This seems as huge discovery for her because the actual waterfall, there are numerous hidden objects there. She believes that those objects have belonged to the lost adventurers. The things around point that maybe here lives some hidden civilization, people that collect those objects. Maybe those people have captured the lost adventurers and their trouble is even bigger than it seems.
Vivian is about to discover everything but she needs some help for that. It would be very nice if you could help her find all those objects hidden in the waterfall. After you finish that, maybe you will find something that will solve the whole mystery about the disappearance of the adventurers. Let's work together and see what will happen. This is also a nice chance to visit wonderful places and see many exotic things that can't be seen in any other place. You can play Hidden Civilization game on all devices. So enjoy and have fun.
Also make sure to check Temple Excavation Game and Pharaohs Scrolls Game. You may enjoy playing them.