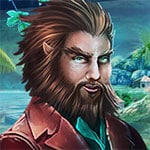 Guardians of the Light Game: For today we bring you some mystery and spooky story. It is about time to bring our friends the werewolves that have thought of a mission to save an island. They live there and don't want to allow anyone get near it. They want to safe this nice place for themselves and will do anything to stop anyone who wants to come closer.
Werewolves are mythical creatures that are scaring humans. At least those who believe in them. But, though they are scary and strong it doesn't mean that there is no chance of finding a problem. We introduce Frank, the werewolf who is one of the keepers of the lightening house of the abandoned island. Together with the other werewolves they take care of this lighthouse and they don't allow someone to enter their island.
They use the lighthouse as a tool that will tell people that there is an abandoned island and that they are not welcomed at that place. But Frank has a big problem. One of the lighthouse mirrors is breaking and the mirror pieces are actually everywhere. Frank has to find them and to fix the lighthouse. So enjoy and have fun in playing Guardians of the Light Game.