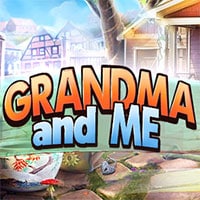 Grandma and Me. Sarah loves her grandmother very much. We are talking about that special connection that could only exist between a grandma and a granddaughter. The granddaughter has always shared her secrets with grandma. They understand each other very good as well, no matter if their age difference is that big. Sarah appreciates everything that her grandmother says and as a matter of fact, their point of view is quite similar.
However, Sarah and her grandmother don't live in the same place. The grandma actually lives in one village and after a longer period of time the girl went to see her. She is very happy that finally has enough time to spend there and enjoy in the wonderful place. Sarah has spent a certain period of her childhood in that village and she simply adores the natural environment there. On the other hand, Sarah is quite sure that her grandmother will be also very happy to see her favorite granddaughter. And since grandma is an older woman who takes care by her own, she could really use little help in her everyday responsibilities.
Let's join Sarah in this interesting trip and see this amazing little village, at the same time helping with the everyday responsibilities of the grandmother.