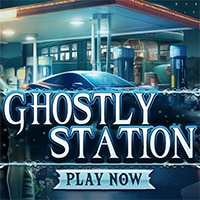 Ghostly Station Game: It has happened to each of us to run out of gas while driving somewhere. It takes a little bad judgment, and we become aware of that when gas stations are far away. That's exactly what happened to Eric. He ran out of gas, but what else happened to him is not something that happens to everyone. As we said, Eric, while traveling in his vehicle, ran out of gas. It's good that very soon after realizing that, he came across a gas station. But after a few minutes, it became clear that no one was working there and the station was abandoned.
It's as if no one has been there for a long time, although there is something eerie and suspicious about the whole atmosphere… Eric is left to himself to find a way to continue the journey. Let's try to help him somehow in Ghostly Station Game. Let's see what's going on at this gas station, and if no solution can be found there, maybe try to get someone to stop and help him?! All options should be considered, and we hope that everything will go well. You can play Ghostly Station Game on all devices. So enjoy and have fun.
Also make sure to check Tracing the Steps Game and Crooked Pursuit Game. You may enjoy playing them.