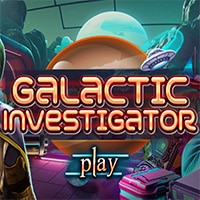 Galactic Investigator Game: Well, there are some assumptions about the future that tell us that might be a chance for inhabiting new planets or regular travels from one planet to another. For now, those options are not available for us, or at least the one of us who don't do those things professionally… Zachary is a detective who comes from the future. He is from the planet Zarus and he is one of the best detectives around. Zachary has been promoted to a galactic investigator which is a prestigious title.
He has a task to solve the mysterious cases in the whole galaxy and he is doing that with a great success. Of course, that is the reason why he got the promotion. Now, let's take part in this intergalactic saga and take a look at Zachary's work. He has worked on numerous, but let's see what includes his last case. Being a detective is very hard job, but being a galactic investigator is definitely even harder. Let's help our character in his last mission and make sure everything goes just fine. You can play Galactic Investigator game on all devices. So enjoy and have fun.
Also make sure to check Enigma Crime Game, you may enjoy playing it.