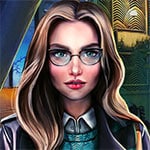 Echoes from the Dark Game: What about some spooky story, our friends? Some fantasy along the way, exiting from the everyday routine, and why not? You may believe or you may not, but there are people who believe in paranormal things, things that simply happen. They explain everything with the facts of paranormal energy and thoughts. Believe it or not, we bring you a lady that actually understands the paranormal activities better than anyone.
Donna explores paranormal activities. At this moment she is in the house of fear where she hears weird sounds. Last night Donna has put photo camera in the house and tonight Donna comes to see if something paranormal really happened. But, it seems like the bad spirits have put everything out of order.
They have thrown the Polaroids through the house and now Donna should find them because they are actually strong evidence that this house actually is the place where spirits live. We are dealing with some of bad spirits here, ah? They have made a real mess in this house. Now it's time to help Donna fight these bad spirits. Enjoy and have fun in playing Echoes from the Dark Game.
Also make sure to check out Fear Of The Dark Game, you may enjoy playing it.