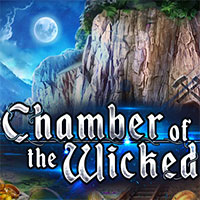 Chamber of the Wicked Game: Meet Debra and David. Those two are real fortune seekers, people that are prepared to travel all around the world just to find lost treasure. And yes, it is not always about empty stories. They have really managed to get to some treasure before and that is what leads them into new challenges, even though some of them could be very tough.
This time Debra and David have found out that there is certain abandoned mine in the island named Atoll. The stories say that this mine hides hidden fortune that has been seized in the Second World War. Digging and searching through the abandoned mine, Debra and David have accidentally found the room of evil. Well this isn't something that people see often but this room really existed. The room has set free numerous evil spirits. Now Debra and David have to find a way how to bring back those ghosts in the room and locked them there, to make sure everyone is safe.
It would be great if we could help Debra and David deal with this unusual situation. They have seen a lot, they have been everywhere. But they are still quite scared from this situation because they don't know how to react when it comes to ghosts. And not any kind of ghosts, but evil ghosts! You can play Chamber of the Wicked game on all devices. So enjoy and have fun.