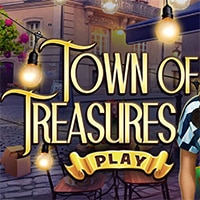 Town of Treasures Game: Amanda and Kevin love to travel most of all. So far, they have visited countless interesting destinations and seen many places worldwide. Even though they've been to many places, they regularly manage to find a new destination for their next challenge. For their trip today in Town of Treasures Game, Amanda and Kevin chose a small European town. This town is considered a place that hides many beauties, but also many valuable objects. This time, that was the challenge for our adventurers to begin their journey. They hardly wait to embark on their walk through the city and start exploring the secrets this beautiful place hides.
Let's join Amanda and Kevin on their adventure today and discover firsthand what this picturesque place hides. Europe is famous for its picturesque architecture, and there are also those valuable objects, hidden around the place, so now we have a motive to start exploring together with our characters. And if we discover something interesting about this city, maybe this city will become our choice for our next trip. You can play Town of Treasures game on all devices. So enjoy and have fun.
Also make sure to check Small Town Mysteries Game, you may enjoy playing it.