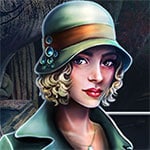 Alone in Shadowland Game: No matter where you are in the world, there's probably a haunted house, hotel, or old historical site that's so scary that you won't dare to get near it. There plenty of places to send a chill up your spine, but this place is by far one of the most eerie.
Voices, strange sounds and lights, moving things have been reported at these place. Amanda has been living near this place all her life. But this is the first time she came this close to this place. She was driving back home when her car suddenly stopped in the middle of the Shadowland. This is the name that this place is known among the locals. This place is known for the paranormal activities that are happening there and is by far the scariest in the city. It gives you chills and thrills at every turn.
Amanda has been terrified by this place ever since she was a little girl. Now she must find a way how to get out of here before something paranormal starts to happen. It is just getting dark and hard to see. Are you brave enough to help her escape from the scariest places on earth? Enjoy and have fun in playing Alone in Shadowland Game.