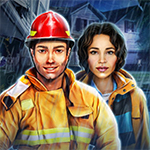 After the Hurricane Game: There were some rumors about a possible hurricane that could struck the city, but nothing for sure. It is always like that with the weather forecast. People hear about something but they believe with a certain reserve. Because we all know that weather changes just like that. But also there is always a hope that the natural catastrophe will simply avoid the place where we live…
Michael and Jessica are just two people who were affected by the strong hurricane that struck the city. Michael is a fireman and he was on the road when this happen. Jessica on the other hand, is a resident whose house unfortunately got struck. After the hurricane, Jessica had nothing else to do but to go outside to gather her scattered belongings. This might be a difficult job but luckily Michael decided to help Jessica collect her things and bring them back inside her home. After that he will clear the road from debris. And make sure everything in the city continues to function as before the terrible hurricane. This sounds like an emergency situation so let's help right away! You can play this game on all devices. So enjoy and have fun.
Also make sure to check out Furious Storm Game and Ice Storm Game. You may enjoy playing them.