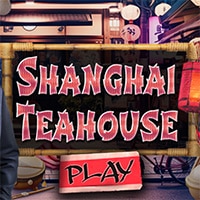 Shanghai Teahouse Game: Indeed, the mafia sometimes operates completely hidden, in hard-to-find places, away from the public eye. On the other hand, mobsters sometimes choose to cover up their actions with an honest job. They choose a public place that seems to work honestly. And through that business, they hide their illegal activities and launder illegal money. Detectives Alice and Richard have a new task ahead of them this time. The work takes them to the Chinese quarter. There are several teahouses in this part of the city, and there are suspicions that in one of these teahouses take place the biggest deals and contracts for the illegal work of the Chinese mafia.
The detectives have come to the teahouse to investigate whether these suspicions are true and whether this place is the center of various mafia gatherings. Let us also go together with the detectives to visit Chinatown. And investigate whether there is any basis for the suspicions. If that's the case, it's time to end some of the mafia games going on in this quarter, specifically in the Shanghai Teahouse. You can play Shanghai Teahouse game on all devices. So enjoy and have fun.
Also make sure to check Childhood Treehouse Game, you may enjoy playing it.