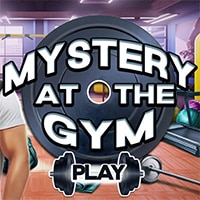 Mystery at the Gym Game: Detective work can be really fun in some cases. Detectives should always be ready for anything. They should always function with full focus to notice all the details and changes around them. But when they have to work incognito, the work can turn into fun. That is, the masking is the interesting part. And the possibility of being sent to some unusual location, the rest is still work. Gregori in Mystery at the Gym Game is a detective who in today's case has to disguise himself as a fitness instructor and work undercover.
He was called because many of the visitors to one of the most famous fitness centers in the city complained that someone was stealing their precious valuables. These include phones, necklaces, rings… but also money. And the easiest way to infiltrate a person in a place like this and remain unnoticed, is pretending to be a part of it, part of the fitness center team. Gregory has the goal of finding out who is the thief from the fitness center. Let's see what it is about and help him. You can play Mystery at the Gym Game on all devices. So enjoy and have fun.
Also make sure to check Gym Incident Game, you may enjoy playing it.