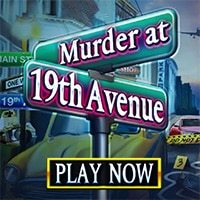 Murder at 19th Avenue Game: The 19th Avenue was always known as a quiet and peaceful street where is rather safe to live or pass through. However, something that happened there has made people to feel little bit worried because there weren't things like this, before in this neighborhood. And about the actual situation, there has been a report of violence and murder at a restaurant on 19th Avenue. That was the unexpected and surprising event that has shaken everyone. But the police have come quickly at the place of the crime scene. Willing to solve the case as soon as possible.
Detectives Jonathan and Emily have been assigned on the case. They arrive at the street to meet police officer Grace who is already there, preparing the investigation site. Everyone is dedicated to the case, so let's see what will happen. As we've mentioned before, this street is known for being peaceful so the situation is rather shocking, But we are also here to help and solve the things out, right? Let's see what happens at the place of the crime scene. You can play this game on all devices. So enjoy and have fun in playing Murder at 19th Avenue Game.
Also make sure to check out Tracing a Murder Game, you may enjoy playing it.