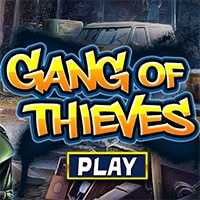 Gang Of Thieves Game: Lately, there have been many reports about robberies in private houses. The people are concerned about their safety. While the police are looking for answers, to who is responsible for those robberies. Is it a thief or maybe there is a group of thieves that operate in that region? However, it seems that the evidence suggests that it is about a gang of thieves that operates in the houses. The detectives Lisa and Charles are in charge to discover the identity of the members of the gang who have stolen a big number of valuable objects from private houses all around the city.
They arrive at the place that is supposed to be the place where the gang makes their secret meetings and plans their future actions. They will have to explore the place and see if they will find something related to the robberies. Maybe they will meet the thieves personally. So let's see what will happen next. If it's needed, we can also take part in the investigation and help the detectives do their job even better. You can play Gang Of Thieves Game on all devices. So enjoy and have fun.
Also make sure to check Invisible Gang Game, you may enjoy playing it.