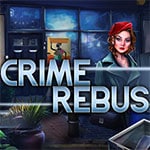 Crime Rebus Game: If you're a word puzzles fan, you'll love to play a game that eventually reveals a series of pictures, known as a rebus puzzle. Today you'll have to help three detectives to solve a rebus that will reveal the crimes of a serial killer. Some of the puzzles are harder than others, but they must solve all of them to catch this monstrous killer.
In Crime Rebus Game: Detectives William, Thomas and Karen are handling this very complex case of a serial killer. Who is very intelligently covering up his tracks. They notice that the killer likes rebus puzzles and that the place in which he lives in is full of small rebuses. They need to solve all of them successfully to reveal some solid evidence of his crimes.
Each rebus puzzle portrays a common word or phrase that will lead to a crime. To solve the puzzles, you'll need a cool head, ingenuity and creative thinking. Help the detectives to find all hidden objects and connect them all to solve the rebus. And reveal where most of the evidence is hidden in order to be able to arrest the killer. So enjoy and have fun in playing Crime Rebus Game. Good luck.