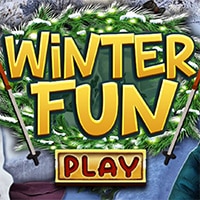 Winter Fun Game: All children love winter. Not that they are more into cold weather, red noses, and common colds, but they see the best in this weather and that is the snow and all the outdoor activities related to that. Skiing, sledding, and ice skating are just one part of their favorite activities. Not to mention making snowmen. And it seems that together with the children, grownups start to love winter too, or we may say, they remember how it was to love it.
In Winter Fun Game: Joan, together with her family and all her relatives, traditionally arrives every winter at the vacation spot near their home. It is something that the whole family loves doing and hardly wait for this period of the year to come. During the winter, this place turns into one of the most popular places for snow activities. There is a frozen lake, a good track for sledding, and most importantly, a lot of snow for making snowmen. What more can we ask from the winter? Let's join them in the winter fun. You can play Winter Fun game on all devices. So enjoy and have fun.
Also make sure to check Icy Winter Game, you may enjoy playing it.