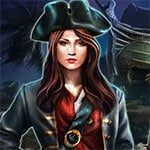 Whisper of the Tide Game: Welcome to the cursed island which is said to be the final resting place for an evil spirit. This evil spirit arises from the sea and draws pirates or sailors down to their death. Vincent was a notorious pirate captain who operated in the seas during the early 18th century. He was one of the most notorious pirates of the Age of Piracy. His flag was red with the black skull and crossbones.
Shortly after he died, he became a vengeful spirit who now lurks the palm trees, a restless ghosts that haunts the golden sands. He only appears when high tide occurs. Not so long ago the spirit of Captain Vincent killed a brave and well known pirate. It was the father of Pirate Grace. She now decides to stop the wicked pirate ghost so he could no longer be threat to anyone anymore. Pirate Grace arrives on the island where no other pirate yet dared to approach. All the other pirates swear that they could hear the captain's whispers during high tide from a far away. Grace is here to investigate the reason for vengeance and murder. She wants to face Captain Vincent and evict his evil spirit forever. Enjoy and have fun in playing Whisper of the Tide Game.
Also make sure to check out Hidden Pirateland Game, you may enjoy playing it.