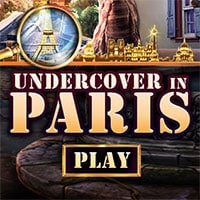 Undercover in Paris Game: Paris is the city of light, the city of art, of beauty. But, big metropolis are also the big spots for criminal. Because they are crowdy, they have rich companies and banks, and usually are the focus of criminals. The polices of these cities are professional and eager to fight all the big and small criminal gangs. On the other hand, big cities like Paris are touristic attractions and a lot of people from all over the world come to spend some time there. Who would want to have the reputation of bad not safe city. With such topics is our game today. Bernice is secret agent at the French police.
She infiltrates a group of thieves who are focused on criminal operations of worthy pieces of art and together with them, starts to steal wanting to gain the confidence in the group. The idea is to collect as much as possible information for their arrestmant. Bernice surely is very brave woman, one of the best police officers that the French police has ever had.
For her dedication and sacrifice she has been awarded a lot of medals, affirmations. She cares about the recognitions, but loves the justice the most. That's what she cares about, how to fight the bad people who are acting against the law and to bring justice to those who needed it the most. The world should be proud with such people and that's why, in today's game, you can be part of a big story and feel heroic for a day. Good luck with the mission! And don't forget to have fun! You can play Undercover in Paris game on all devices. So enjoy and have fun.