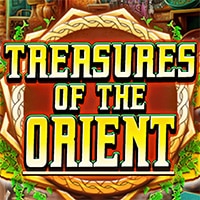 Treasures of the Orient Game: Ashley and Donald are tourist guides. Their work has taken them to numerois distant place so far and they met a lot of different people and different cultures. Maybe the job is dynamic but they love every aspect of it. This time Ashley and Donald are visiting one oriental country. Every time it's a great pleasure to visit an exotic place and learn something more about it, about it lifestyle and things that are typical for such a place. Ashley and Donald are here with a group of tourists.
In Treasures of the Orient Game: They were exploring the place when they suddenly bump into one wonderful traditional bazaar. The place is full with objects that are typical for that location. The guides, together with the tourists, are very excited and they all want to find some interesting objects, to take them home as souvenirs. It is sure that there are numerous interesting things, just they need to find the right ones. Let's explore the bazaar together with our today's characters and find interesting objects in the bazaar. You can play Treasures of the Orient Game on all devices. So enjoy and have fun.
Also make sure to check Ancient Treasures Game, you may enjoy playing it.