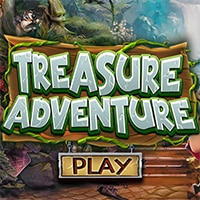 Treasure Adventure Game: Lara is a born adventurer, a person that is always looking for a new challenge, always looking for a new place to see. Some information about a hidden place, about unknown civilizations, or something similar, may sound irrelevant to some people, they take it as a rumor. But Lara always likes to check out if this information is true. And if she notices that there might be something, she doesn't waste time, but she takes an action right away.
In Treasure Adventure Game: Last night Lara got a call from one of her friends who told her that someone discovered a new, unknown world – a habitat of an unknown civilization. It sounds like a double challenge for Lara. It's not only about a new place to visit but also about a civilization that is still not explored. A civilization that can tell a lot for the whole of humanity. She can learn about how they lived, find the objects they used every day, and maybe find their treasures. Lara goes right away to the heart of the jungle and starts exploring. You can play Treasure Adventure game on all devices. So enjoy and have fun.
Also make sure to check Winterland Adventure Game, you may enjoy playing it.