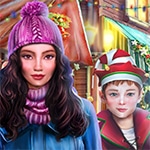 The Winter Game: The winter holiday is the period of the year most waited by everyone. It is especially expected by the children who hardly wait snow to fall. So they could get their sledges and enjoy in the white beauty. Kids adore making snowmen, adore skiing and rolling in the snow and having incredible fun, something that could be offered just by the winter. And while some kids stay at home during the winter, keeping it warm and safe. Others love to spend the holiday somewhere in the mountains, dashing through the snow with rosy chicks. In The Winter Game: The young Andrew every year spends the winter holiday in the place of his aunt Donna.
By tradition, they play the winter game, a game that includes searching for hidden objects, previously hidden by his aunt. The game is like that every year. But this year the game is enriched with few other activities, more precisely, few riddles. Besides the hidden objects, Andrew will have to solve those riddles so he is very excited now, hardly waiting for the winter game to begin. You can play this game on all devices. So enjoy and have fun.
Also make sure to check out Winter Mystery, you may enjoy playing it.