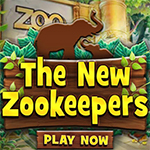 The New Zookeepers Game: When looking for job, some people decide to work everything, just as long as their job provides them material security and makes them feel good about themselves. However, there are certain jobs that require from the future employee to be extra trained, to have certain particular skills. A special education or talent for doing that kind of job. In this group we could count working in the ZOO as in The New Zookeepers Game. Maybe many of us could say that this is their dream job. But we know that in practice things don't work as easy as that.
First of all people who work with animals have to love animals and not to be afraid of spending the days with them. After that, they have to know a lot about animals. Because we are talking about living creatures which means they are as delicate as people and most of their physical needs are same. In The New Zookeepers Game: Emily , Brian and Laura the new employees in the city ZOO. Today is their first day at work. So they need our help around the everyday activities that need to be done here every day. Let's check out what is it about and learn something more about the animals in the ZOO. You can play this game on all devices. So enjoy and have fun in playing The New Zookeepers Game.
Also make sure to check out Beach Keepers Game and The Time Keepers Game. You may enjoy playing them.