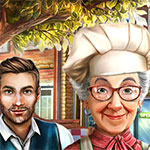 The Great Restaurant Game: Flavor packed goodness, keeping your stomach and your wallet full. How? It is time to prepare your taste buds for this great restaurant. The rumors are true: this restaurant has it all! It is well known for its tasty food which is prepared the good old way our grandparents made it, plus some innovative takes on regional dishes, all in a cosy, warm setting. Mary and her son James own this small restaurant which is known as the Great restaurant for its specific menu that can be found only there.
Flavorful dishes, perfectly spiced will have you running back for more. And people are actually running to get there first. Today a group of tourists arrive in town. So they are eager to try the food in this known place and experience a taste of life. But, their arrival was unannounced and Mary and James are not prepared to serve such a large group. Being prepared for unexpected culinary challenges is one way to ensure that your surprise guests will be well-fed when they drop in for a visit. They can manage to serve them all with your help, so roll up those sleeves. So enjoy and have fun in playing The Great Restaurant Game.
Also make sure to check out Eat and Enjoy Game, you may enjoy playing it.